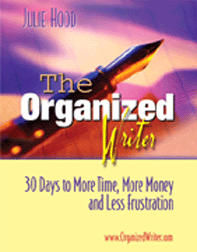 The Organized Writer's
30-Day Plan
Section One: Let's Get Organized
Day 1 Your Organizing Personality
Day 2 Your Master List
Day 3 The Sidetracked Writer's
Planner (free when you subscribe)
Day 4 What Works for You

Section Two: Time
Day 5 Make Your Time Map
Day 6 Goals? Who Me?
Day 7 Assign Your Activities

Section Three: Workspace
Day 8 Your Writespace
Day 9 What's in Those File Drawers?

Section Four: Online Workspace
Day 10 Your Most Time-Saving Tool
Day 11 Communicate on the Web
Day 12 Writer on the Web
Day 13 Books and Magazines, EVERYWHERE
Day 14 Find Your Favorites

Section Five: Idea to Query
Day 15 Capture Those Ideas
Day 16 Research and Clippings
Day 17 Target Your Market
Day 18 A Guideline Database Just for You
Day 19 Writer's Clips
Day 20 Quick Queries
Day 21 Email Queries
Day 22 Track Your Submissions

Section Six: Manuscript to Payment
Day 23 The Perfect Manuscript
Day 24 Show Me the Money
Day 25 Taxes Made Easy
Day 26 More Taxes?!? Self-Employment and Estimated Taxes

Section Seven: What Else?
Day 27 Update Your Skills
Day 28 Make Your Household Hum

Section Eight: Go Forward...Organized!
Day 29 Rework Your Time
Day 30 What's Next?

Reviews
"Whether you already consider yourself to be organized or not, Julie Hood's 'The Organized Writer: 30 Days to More Time, More Money, and Less Frustration' will take you by the hand and simplify your writing life.
Julie leads you through everything ....
I highly recommend this guidebook and give it a top rating of 10!"
Dallas Franklin, Sell Writing Online.com.
Peek inside the eBook
The Organized Writer:
30 Days to More Time, More Money, and Less Frustration
"If only I were more organized...."

What would you do? Write more?
Publish more? Probably.

But who has the time to get organized?

You do. Spend a little investment time
each day for the next 30 days, and:
Learn the one secret tool every writer needs to stay organized.


Find out the most precious resource of any writer–and how you can maximize it.


Get 30 printable Forms and Checklists to track your ideas, your queries, your markets, and your manuscripts.


Determine your "organizing personality" and use it to stay organized.


Learn how to file your papers (and actually find them back).


Learn tricks to make your computer do your work and save you time.


Customize the program to fit the way you work.


And more!
Reviews and Comments

"..this practical and positive e-book is a must-have!" --Sherry Ramsey, The Scriptorium.net

Read a Free Chapter

Read a free chapter, Day 2: Your Master List.
Excerpt
The Organized Writer's Six Rules

1. Work with Yourself, Not Against Yourself
Understand your personality and what works for you. Do what feels right and what appeals to you—not what seems to "be organized."
2. Focus and Pay Attention
When possible, do one thing at a time. Do not let your mind wander. Picture the goal in your mind, and focus on it.
3. Invest Your Time
Pay attention to how you spend your time. Saving just 20 minutes each day gives you an extra 120 hours each year. Strive to improve the time it takes to complete a project. Be willing to invest a block of time if it will save you hours of frustration later.
4. Create Habits
You can create a new habit (or lose a bad habit!) in 21 days.
For only three weeks of effort, you can create a lifetime of
good habits.
5. Use the Right Tools
Make sure you have the right tools handy when you need them.
6. Work Forward
Organize for your work ahead. Don't organize what's already finished. You want to save time by going forward not just reorganize what you already have.

Want to know more?
From the Author



Happy Writing
(and Organizing!)
Julie Hood


Search this Site



Free Planner


For weekly tips, tricks and resources, sign up for the free weekly newsletter, Writer-Reminders!

Get the FREE ebook,
The Sidetracked Writer's Planner, when you subscribe.
Privacy policy

For advance notice of site updates, new products, and special offers, sign up for the Organized Writer newsletter!
Privacy policy

Tell a Friend

Like this site? Tell a friend:
[ FREE referral systems! ]

Comments from Readers

"The Organized Writer is a must for writers finding themselves buried in piles of paper. Hood has broken down the steps of organization in an easy to understand format just for us."
-- Diana Brandmeyer, author of Inspiration romance and children's books

****

"Julie Hood's excellent e-book, The Organized Writer, can help you achieve the organization you need to be more productive as a writer...
If you really want to organize your writing life (and maybe the rest of your life, too) this practical and positive e-book is a must-have!"
-Reviewed by Sherry Ramsey, TheScriptorium.net